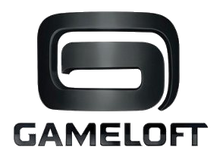 Gameloft is a video game developer and publisher headquartered in Paris, France. The company also has subsidiaries in 28 countries around the world. They have created a number of games for mobile phone handsets, tablets, games consoles and other platforms.
Gameloft has expanded to employ a staff of 5,000 at the end of 2011. Gameloft has posted consolidated revenues of $68m in 2006, $96m in 2007, $110m in 2008 and $122m in 2009.[4] In 2010, Gameloft consolidated sales reached $141m and went up to $164m in 2011. Through agreements with major telephone carriers, handset manufacturers, specialized distributors and its online shop, Gameloft states it has a distribution network in over 100 countries.
Ad blocker interference detected!
Wikia is a free-to-use site that makes money from advertising. We have a modified experience for viewers using ad blockers

Wikia is not accessible if you've made further modifications. Remove the custom ad blocker rule(s) and the page will load as expected.