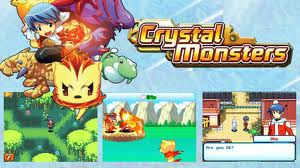 Welcome to the Crystal Monsters Wiki
Edit
Feel free to contribute!
About the game
Edit
This game, very much like the Pokemon franchise, is rooted on collecting, training, and battling your monsters. Crystal Monsters can be much more difficult then Pokemon, allowing for veterans of the Pokemon franchise to still be challenged. Different game mechanics set it apart from other similar games. Developed by Gameloft, this game can be  purchased and played on the Nintendo DSi, DSiXL, 3DS, 3DSXL, and 2DS.The game was initially developed for mobile phones in Japan. The game's original name was Monster Chronicle.
Latest Edits:
Edit
hi guys i really like crystal monsters and so i made this site with basic info on the game
I hope you like it (it needs some work, please contribute!)
Thank you.