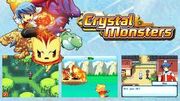 There is a sequel to the game Crystal Monsters called Crystal Monsters 2, but it has only come out in Japan and will not come out in the U.S. anytime soon. I have contacted Nintendo and Gameloft about this. You may try to contact them, as this could help. This game features multiplayer battling and new monsters. Awesome!
Ad blocker interference detected!
Wikia is a free-to-use site that makes money from advertising. We have a modified experience for viewers using ad blockers

Wikia is not accessible if you've made further modifications. Remove the custom ad blocker rule(s) and the page will load as expected.